Top 10 E-Liquid Recipes in 2022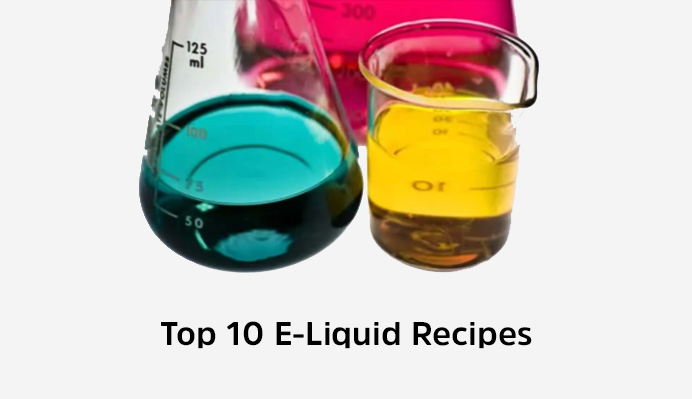 There is no greater way to get into DIY e-juice than commencing with a catalogue of well-known recipes that work. DIY (Do-It-Yourself) e-juices are popularly known as some of the top e-liquid recipes prepared without blending exotic or elusive flavourings.
Besides, these recipes are the same as the ones prepared by experienced experts who properly understand how to achieve the appropriate blend from each concentrate.
Put in their plainest form, these recipes are similar to standard vape juices found in vaping stores (both brick-and-mortar and online shops). Their only difference with standard e-juices is that you're the "mixologist" which saves you a lot of money.
A typical DIY e-juice comes with four ingredients: Propylene Glycol (PG), Vegetable glycerin (VG), nicotine, and flavouring. In some cases, nicotine is excluded from the mix and we refer to the vape juice as a nicotine-free or zero-nicotine e-juice.
When you start preparing your DIY e-juice, you ought to follow some pretty straightforward guidelines and substitute elements depending on the type and purpose of e-juice. Some of the fundamental guidelines are:
Determining and mastering the e-juice recipes
Firstly, find for yourself simple e-liquid recipes and the information regarding the percentages, ratios, and concentration required to prepare a DIY e-juice. Learn some of the abbreviations used to assist you to understand and follow the preparation procedure correctly:
VG stands for Vegetable Glycerin. It's a popular base used for the preparation of e-liquids. It has a strong consistency (thick) and slow absorption time. It's often used by vapers seeking dense and huge vapor clouds.
PG which stands for Propylene Glycol. Compared with VG, PG is thinner and has a quicker absorption rate. It's often used by vapers looking for purer flavor delivery alongside stronger throat hits.
Often, a blend of Vegetable Glycerin and Propylene Glycol is used to prepare e-liquids. Determine the ratio that best suits your consumption.
For example, if your e-juice is meant for sub-ohming, you can choose a 70VG/30PG ratio. Regarding the level of nicotine, you can choose high, medium, low concentration, or zero-nicotine concentrations.
Quantification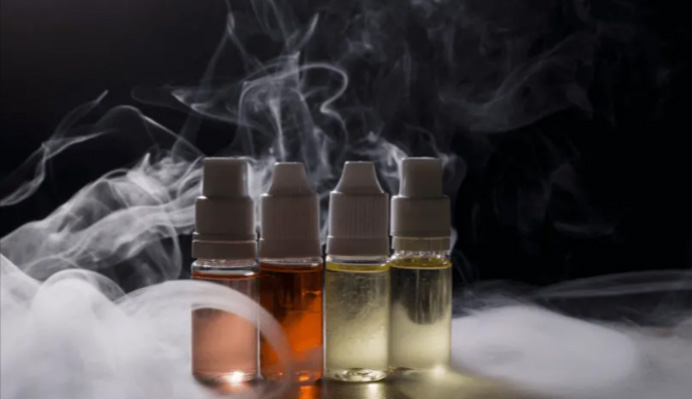 Now that you've decided the recipe, flavors, and elements to include in the mix, your next step is to know the amount of each ingredient to add. In the e-juice recipe, you'll find a percentage value against each element which indicates the quantity/measurement of that element in the e-liquid mixture.
Besides, an e-juice calculator is significant for this matter. It assists you to get the appropriate measurements for preparing a DIY e-juice.
Preparing your DIY e-juice
So by this point, you should have a specific recipe and measurements. It's time for the real magic. E-juices are not different from foodstuffs hence the environment ought to be clean and safe. Besides, you should have safety equipment and clothing such as gloves, scrubs, and toques among others.
Essentially, the preparation of e-juices involves mixing the specified elements. There are two different ways of mixing the elements: by volume and by weight. By volume involves the use of milliliters where the elements are measured in terms of volume.
Here, separate syringes are for each ingredient. By weight involves the use of grams. Sets of scales are used to measure the elements before dropping them into the mixing chamber, preferably a glass bottle.
Top e-liquid recipes
In this post, we've gathered the 10 most popular e-juice recipes on the market. Besides, these recipes are simple DIY e-juices that are highly rated by vapers. They include:
1. Simple sugar cookie recipe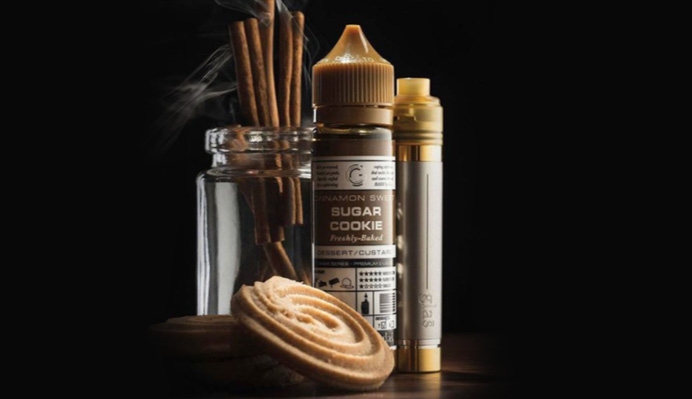 It's an easy-to-prepare DIY e-liquid recipe. The recipe constitutes 12% of the total flavoring percentage sugar cookie (8%) and vanilla custard (4%). Besides, it's easy to mix and requires a short time to steep, hardly a week.
The sugar cookie part can be blended with biscuit flavoring to introduce the missing texture. It's versatile and never disappoints even when used in low concentrations. In this e-juice recipe, the flavoring works as the standing flavoring.
Vanilla custard is one of the most significant custard flavorings on the market. If custards are your most favorite flavoring then you absolutely need them. Vanilla custard flavoring comes in numerous versions: rich, eggy, and versatile and is used for different purposes. In this recipe, it's used to add creaminess.
2.Thai Coconut Ice Cream recipe
This is another popular e-liquid recipe where a DIYer blends three different flavoring ingredients: coconut, vanilla bean ice cream, and caramel. The recipe starts popping from the 3rd to the 5th day of steeping.
The coconut flavouring used here is a very essential additive that's free from what most coconut concentrates behave: bearing some sunscreen taste. The flavouring gives you the taste of coconut milk and coconut paste at the same time. The caramel-grade flavouring used is the best and purest caramel flavour in the market.
In addition, it's the easiest flavouring to work with. Any measurement between 0.5 and 2% works very well for your DIY e-liquid. Caramel can be combined with other flavourings like creams, tobaccos, and fruits. Vanilla Bean Ice Cream or simply VBIC when preparing e-juices with an ice-cream profile. Also, VBIC gives your e-liquid an exemplary texture.
3.Goofy's Juice recipe
It's a simple yet elegant sweet tobacco e-liquid recipe. Benefits are resounding when steeped properly. DIYers are advised to mix it properly and forget it in the cupboard for not less than one month. Five different flavoring ingredients are used in this recipe: acetyl pyrazine, graham cracker, hazelnut, peanut butter, and RY4 Double.
Hazelnut: also used in cereal mixes, sweet tobacco, and desserts, the rich and creamy Hazelnut is one of the easiest ingredients to work with and a great fit for the majority of DIY E-liquid recipes.
Graham cracker: very significant and widely used to boost pies. Also makes an exemplary combo when combined with biscuits and cheesecake flavors. Gives the recipe a grainy texture.
Peanut butter: probably the most popular e-juice flavoring currently in the market – for good reason. It's realistic, can be used in any amount, and it's never complicated. Peanut butter flavoring features diketones but the DX-free (diketone-free) version is a better substitute.
RY4 Double: probably the owner of sweet tobacco flavorings. It's by far the best tobacco flavoring in the market. Can be used as a standalone flavoring or combined with other flavors to enhance its taste notes.
Acetyl pyrazine (AP): it's an additive rather than a flavor ingredient. It gives the e-juice a roasted nut flavor characteristic. In the Goofy juice recipe, acetyl pyrazine is used to enhance the nutty flavors.
4. Grack juice recipe
It's one of the most rated recipes and the winner of Reddit's catalog of the top 2016 e-juice recipes. The vapers usually use this juice recipe for vape tricks. It's diketone-free and features a refreshing grape juice taste. To prepare, different flavorings are used such as cactus, dragonfruit, raspberry, sweet strawberry, koolada, and grape.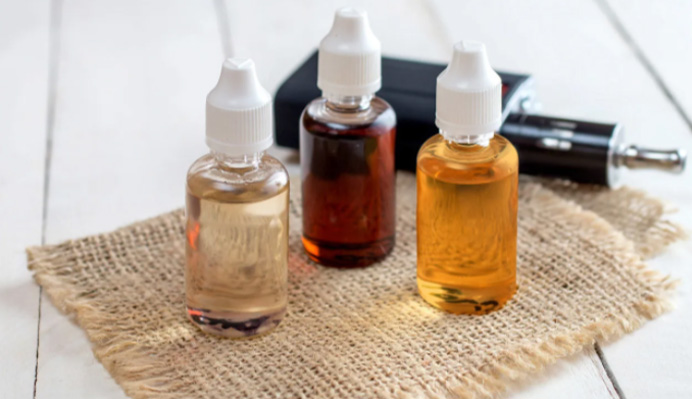 Sweet strawberry: it's used as the chief flavoring agent in this recipe. Also, it gives the mix a candy texture.
Koolada: it's a cooling agent that adds ice to the mix. It works very well for DIYers preferring a frozen effect. Its concentrations should be kept as low as possible to avoid competition from other flavors.
Dragonfruit: it's mainly used as a strawberry booster. A few drops of it make strawberry mixes pop up, giving it a tarty and juicy background.
Cactus: it's mainly used to juice-ify fruits. You would be amazed by what a small portion of Inawera cactus does to the mix.
Grape: acts as the base of the e-juice recipe. It can as well be a solid standalone if grapes are your favorite flavor.
Raspberry: it's a realistic flavoring that's used to brighten strawberry mixes. It's used in low concentrations.
5. Apple Buttah recipe
One of the most decorated e-juice recipes in the market. The recipe is highly praised for nailing all aspects of creamy apple sauce. All its ingredients are well-thought and favorite among apple enthusiasts. Ingredients include:
Buttercream: as its name implies, buttercream flavor adds some depth to other types of creams. It's lighter comparing it with custard creams thanks to the lack of diketones.
Cinnamon Danish Swirl: works great when its concentration is kept below 1%. Offers the recipe a creamy texture.
Fuji Apple (FA): acts as an apple concentrate in the mixture.
Vanilla Bean Ice Cream: Adds vanilla touch and texture
Vanilla custard: makes the mixture creamier and richer.
6. Leche De Coco
It's a smooth coconut milk e-juice recipe that applies around 6% flavoring. This low percentage shouldn't fool you as it's way richer than most recipes. Ingredients include:
Meringue: used for sweetness enhancement
Coconut: used to add the coconut profile
Cream fresh: light and diketone-free. It's used to add a nice creamy background
Bavarian cream: a versatile flavor with creamy characteristics. Available in diketone-free version and offers the mixture a creamy background.
7. Boss reserve clone recipe
Using less than 10% of flavoring, Boss reserve clone e-liquid recipe is one of the e-juice clones ever. It's a smooth and all-day vape juice that is preferred by many. The ingredients include:
Acetyl pyrazine (AP): not more than 1% of AP is used in this mixture and it's used to enhance the nutty profile of Boss Reserve juice.
Milk and honey: this is a complex mix of milk and honey-like its name suggests. It's a great concentrate for vapers wanting to add milk and honey in their vape juice recipes.
Super sweet: commercial e-juice must be cloned with sweetening agents and a Capella's super sweet never disappoints.
8. The New Pistachio RY4-U recipe
By letting it steep for two to three weeks, the New Pistachio RY4-U can indeed make you "drunk" like crazy! It gives you the best vaping experience ever. Ingredients include:
Pistachio: it's close to the same flavoring you get from a pistachio ice cream. Besides, it's creamy and sweet and gives your e-juice an exact creamy background.
RY4 Double: it's the tobacco part of this recipe and offers the tobacco background
Sugar cookie: regarded as the secret ingredient in the mix. Makes New Pistachio RY4-U a better version than the previous versions.
Vanilla Swirl: it's a light cream and used to add texture and offer New Pistachio RY4 a light creamy accent.
9. Pink lemonade clone
What's so special about the Pink Lemonade clone recipe is the countless significant comments you will find on its page. Besides, the creator offers exemplarily detailed flavor notes alongside an extensive catalog of enhancements he's done on it. The ingredients include:
Lemonade: it's the base of the recipe. It can work as a standalone. It's one of the few flavors that outstand when enhanced by other citrus flavors. It offers a lemonade profile.
Key Lime: it comes with some lemonade potential in it. Works perfectly to form a complex lime profile.
Lime tahity: it's an unsweetened fresh lime flavoring and is used in lime profiles. It's used to offer a magic touch to lemon profiles.
Vanilla Swirl: probably the top cream for fruit-based recipes. It's meant for smoothening the lemon edges.
Sweet strawberry: Capella's sweet strawberry contributes to the "pink" part of the lemonade.
Super sweet: the recipe is fairly sweet, thanks to super-sweet content.
Marshmallow: one of the significant flavors in the market. It functions as a sweetener and blender in the mix.
Sweet tangerine: as its name suggests, it adds the candy-like tangerine flavor.
10. Almond candy bar
Combining cocoa flakes with natural almonds gives you the most delightful e-liquid with a traditional and tropical touch. Its taste imitates the sweet flavor of nutty granola e-juice with bits of coconut sprinkled inside.
The candy bar offers an impression of almond joy, a renowned vape juice loved by many vapers. Almond candy is indeed the most obvious way to deliver creamy flavour to your sweet buds. Within three to seven days of steeping, the recipe is ready for consumption. Ingredients include:
Coconut: introduces the coconut profile
Meringue: enhances the creamy and sweetening effect of the coconut
Hazelnut: makes the almond flavor pop-out
Final thoughts
The recipes explained above are just some of the many simple yet spectacular manuals for your e-juice preparation. Try them today and enjoy your lovely vaping session.